Welsberg
Place of Interest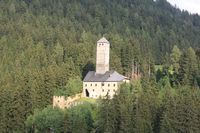 Castle Welsberg
Welsberg
The centre of the Gsies Valley
Directly at the entrance to the Gsies Valley is the charming town of Welsberg. The baroque church of St. Magdalena has some altar paintings by Paul Troger (1698 - 1762). Overall, the townscape seems very urban, which, in all likelihood, is indicative of its former function as a place of trial. Just outside the town you will find is the Castle Welsberg. It is one of the oldest castles of the Puster Valley and still has a very beautiful old castle keep from the 12th century. It was the seat of the lords of Welsberg and it is open to the public.
Welsberg and surroundings
A little further up the valley there is the small town Taisten. Here, above all, the religious buildings deserve special attention because they display the art-historical transformation from the Romanesque to the Baroque. The Romanesque Church of St. George with frescoes by Simon of Taisten and Leonhard of Brixen, the baroque parish church with works by Franz Zeiller and Michael Pacher and the gothic cemetery chapel (chapel of Jacob) which contains frescoes by Simon of Taisten.