Cortina d'Ampezzo
Place of Interest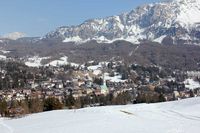 Cortina in Winter
Cortina d'Ampezzo
Luxury sports resort in the Dolomites
Cortina is the capital of tourism in Belluno par excellence and one of the most popular resorts in the Dolomites. The luxury resort is anything but cheap. Luxury hotels, among them the only two five-star hotels in the Dolomites, and expensive villas are located close together and offer the rich and famous enough space and comfort for their holidays. Therefore, if you bring enough cash, you will find a sports resort of superlatives in Cortina d'Ampezzo. Both in summer and in winter there is a wide range of leisure and sports facilities – including fantastic nightlife and many events.
Attractions in Cortina d'Ampezzo
The town centre of Cortina focuses around the traffic-free Corso Italia, the old main road which was built by the Austrians. Many shops, hotels and even some older buildings are located here. Also worth mentioning is the Church of SS Filippo e Giacomo, with its 71-metre-high bell tower. Inside there is a beautiful Mary Altar with wood carvings of Andrea Brustolon. The square in front of the church is often used for events – the monument of Cortina's famous mountain guide Angelo Dibona can also be found here. The Ciasa de ra Regoles next to the church was the former administrative centre of the entire Ampezzo Valley and now houses the Museo delle Regole: a folklore museum which is divided into three sections which explain the rock formations of the Dolomites as well as the crafts and costumes of the Ladin population of the Ampezzo Valley. The art gallery contains some contemporary works by Italian artists.
Surroundings of Cortina d'Ampezzo
Very popular for bikers is the Passo Giau, which connects Cortina with the Agordino Valley on a curvy road reaching 2233 metres above sea level. Along the Great Dolomites Road over the Passo Falzarego you will also have a wonderful view. The Tofane Mountains dominate the panorama here and offer a paradise for climbers and mountaineers. Climbers will rejoice at the sight of one of the most photographed peaks of the Dolomites: the Cinque Torri (the five towers). The huge rock formations offer a climbing centre and climbing trails for absolute beginners and professional climbers respectively. A connected open-air museum commemorates the battles of World War II all around the mountain range.
In addition to the Tofane and the Cinque Torri, many more attractive travel destinations can be found in the vicinity of Cortina d'Ampezzo: A trip to the Monte Piano or the trip around the Cristallo mountain should be mentioned at this point, as well as a visit to the idyllic mountain lake Misurina.