Possagno
Place of Interest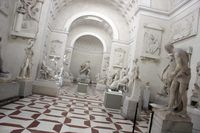 Gipsoteca
Possagno
Working place of Antonio Canova
The small town of Possagno north of Asolo is dedicated to the sculptor Antonio Canova (1757-1822). Canova, one of the main exponents of Italian classicism, was born here as the son of a quarry worker. As a boy he also worked in the marble quarry where he discovered his talent and was sent to study under a Venetian sculptor. At the age of just 18, Canova had his own workshop and quickly worked his way up to become the highest paid sculptor of his time. Nobles, popes and rich people from all over Europe were queuing up to one to get one of his coveted sculptures and busts. Even Napoleon was sculptured by Canova four times. Faced with so many orders, Canova was the first artist of his time to start mass production. He measured his sculptures exactly, modelled the parts in plaster and made them replicable. His models, statues and sculptures are now scattered throughout museums, mansions and private collections around the world.
Attractions in Possagno
The town of Possagno and its surrounding areas are still dominated by the enormous Tempio di Canova, a replica of the Pantheon in Rome. The monumental temple is decorated inside with sculptures and busts of Canova and became the tomb of the famous citizen after his death. In summer, by the way, you can enjoy a magnificent view of the surrounding areas from the top of the temple.
Do not forget to visit the Museo Canoviano. It consists of the gallery of plaster casts and the Casa Canova. The Gipsoteca includes almost all the plaster models that Canova ever made. All of Canova's plaster creations are lined up here under a massive barrel vault – including "Hercules and Lica", his first major work. The Casa Canova is the birth and death place of Anonio Canova, where you can get a good impression of the life and work of the great artist: tempera pictures, paintings and sculptures by the master and his deathbed, including the death mask.
Entrance
Museo Canoviano: 9,00 €