Trip to Treviso
Holidays in the heart of Veneto
The historic city of Treviso is located a few miles northwest of Venice and was the first city in Veneto to be annexed by the Doge's republic of Venice. For the Venetians it served as a bridgehead for further conquests, and the Serenissima brought stability and prosperity to the city. Even today, the picturesque old town with its canals is a veritable magnet for visitors. However, in the province of Treviso itself there is also a lot to see. Picturesque hills and villages such as Asolo, Possagno, famous mansions and art works by masters such as Andrea Palladio and Antonio Canova and a vast vinery in the Prosecco region. More than enough reasons to plan a trip to Treviso!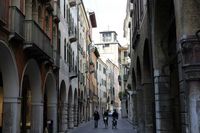 In the old town
Trip to Treviso: History, nature and culinary specialities at its best
Treviso is an important and interesting city in Veneto, both economically and historically. Treviso was the first of the Venetian cities to be incorporated into the Venetian Republic and thus experienced a long period of relative stability and prosperity. Although Treviso itself has a relatively small number of unique attractions, the charm of the medieval old town alone makes it worth a visit. The river Botteniga flows in three canals through Treviso and is, together with the narrow streets and historic homes, responsible for the picturesque appearance of the town. A short stop in one of the many cafes or a glass of excellent sparkling wine in one of the cosy bars is an absolute must.
Trip to Treviso and to the Prosecco region
While the eastern plain between Treviso and Venice-Mestre is not very interesting for tourists, the northern hillside has a lot more worthwhile attractions. Idyllic mountain villages such as Asolo and Possagno invite visitors to enjoy a summer retreat and to stay; magnificent villas and cottages, including Palladio's famous Villa Barbaro, fascinate visitors as do Antonio Canova's statues and art works. The crowning highlight are the dense cone-shaped growing hills of the Prosecco region – a tasting of fine sparkling wine included! Reason enough to make a short stop in Treviso on your trip to Italy and explore the beauties of the province.