Piazza dei Signori
Square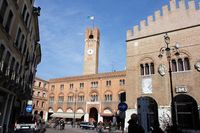 Palazzo dei Trecento
Piazza dei Signori
The centre of Treviso
The Piazza dei Signori is the centre of the small town of Treviso. The palaces with their open arcades and numerous cafes make it a popular meeting place with plenty of atmosphere. The most important palace on the Piazza is the Gothic Palazzo dei Trecento. It was built in 1210, was the seat of the Grand Council of the city and is very interesting in terms of art history. In the top half of the facade you can see a continuous line that marks its destruction by bombs during World War II. After the war, the historic palace was rebuilt and the historic frescoes in the interior were also saved. In the spacious loggia of the Palazzo dei Trecento, three cafes can be found. It is only possible to view the interior during exhibitions.
More palaces around the main square of Treviso
On the long side of the Piazza dei Signori, the neo-Gothic Palazzo del Podesta from the 19th century is situated. It is dominated by the great Torre del Comune. At the back of the Palazzo is the small Piazza San Vito with the richly decorated chapels of Santa Lucia and San Vito. In the Chapel of Santa Lucia there are frescoes by Tommaso da Modena from the 14th century. The Praetorian Palace now houses the Prefecture. To the rear is the Piazza Monte di Pietà with the interesting Cappella dei Rettori.