Conegliano
Place of Interest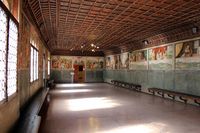 Scuola dei Battuti
Conegliano
Wine town in the foothills of the Alps
The pretty town in the foothills of the Alps offers its visitors several attractions. The beautiful medieval old town nestles picturesquely on a hill below the towering castle. Conegliano is also the birthplace and home of the Renaissance painter Giambattista Cima da Conegliano (1460-1517). The oldest wine-growing school can be also visited in Conegliano.
The centre of Conegliano and also the most important place to visit is the Piazza Cima in the heart of the old town. Here are the classical theatre, the Scuola dei Battuti, and the cathedral. The arcades of the surrounding streets are great for a short walk.
Attractions in Conegliano
Especially worth seeing in the cathedral is the altarpiece by Cima himself, the "Enthroned Madonna and Child". The Scuola dei Battuti and its interiors are completely covered with frescoes from the 16th century. Unfortunately the frescoes on the outside walls are becoming increasingly faded. Just behind the cathedral is the birthplace of Cima, which now houses a museum with replicas of his most important works. From the Piazza Cima a narrow footpath leads up the hill to the medieval Castelvecchio. From the tower you have a magnificent view over the plains of the Veneto region and the surrounding hills.
By the way, anyone planning a stay in June should find out about Conegliano's most famous festival – the Dama Castellana, which takes place every year in late June. In a historic game of draughts the different neighbourhoods play in period costumes with human figures against each other. The hustle and bustle commemorates the victory of Conegliano against Treviso in 1241. More information can be found under www.damacastellana.it.