Castelfranco Veneto
Place of Interest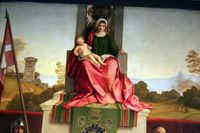 "Mary with Child" by Giorgione
Castelfranco Veneto
Medieval fortress city in the heart of Veneto
An impressive medieval fortress city awaits visitors in Castelfranco Veneto. The historic centre is surrounded by a completely preserved brick wall, moats and five watch towers. The fortress was built in the 12th century by Treviso to defend the city against the rising Padua. The citizens of Castelfranco received free housing within the city walls under the condition that they defend the city with their weapons – with this trick Treviso tried to ensure that the bulwark would stop possible attacks. Nevertheless, the fortress was taken in 1246 by Ezzelino IV da Romano from Vicenza and in 1329 by Cangrande I della Scala from Verona.
The historic centre invites visitors to go on a short walk but offers no great attractions. Castelfranco Veneto is the birthplace of the Renaissance painter Giorgione (1478-1510). His supposed birthplace is located next to the cathedral. In the right chapel choir of the cathedral is one of Giorgione's masterpieces, the altarpiece "Pala di Castelfranco". It shows the Madonna with saints Francis and Liberalis.
Villa Emo near Castelfranco Veneto
A short distance northeast of Castelfranco Veneto, in Fanzolo di Vedelago, is the Villa Emo, a villa by the great master Palladio, which was built between 1555 and 1565. The owner, Leonardo Emo, is said to be one of the first to have cultivated corn in northern Italy. The villa is still owned by the Emo family and can be visited in the afternoon.