City walk through Rovigo
Travel with ZAINOO to the most remarkable places in Rovigo
Whether you are just passing through and only have time for a brief walking tour through Rovigo, or if you have several days in the province to linger,on ZAINOO every traveller will find the right programme to suit. From a simple stroll through the historic old town and a visit of the art gallery with the best Venetian art collection, to an exciting tour along the coast and the Po Delta, you can experience the lot. Plenty of reasons to stop off in Rovigo and take a closer look at the city.
Piazza Vittorio Emanuele II.
See the most beautiful places in Rovigo
Rovigo can by no means provide such a wealth of famous sights and attractions as Venice, Verona and many other cities in the Veneto region. But still, Rovigo has its own charm, which makes it well worth visiting the town. On a walking tour through Rovigo you can experience the small town, and in the historic old town you can imagine a little bit of the glory of earlier days. In addition to the Piazza Vittorio Emanuele II., the art gallery with one of the best collections of paintings in the Veneto region and the Cathedral of Santo Stefano, the octagonal church of "La Rotonda" and the remains of medieval fortifications are well worth seeing.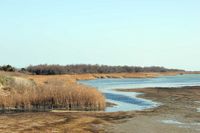 Po Delta
Across the Po Delta
If you prefer an active holiday and you like to enjoy the beauties of nature, you should definitely take a tour through the scenic Po Delta. Both the northern and the southern Po Delta are accessible from narrow roads and dams along the sea and offer magnificent views of the sea and the seemingly endless rice fields and reed beds. Sport lovers can take this tour by bike or canoe.
ZAINOO city walk through Rovigo
No matter how long you are able to stay in Rovigo, you should not miss the most important and most beautiful places. Whether a short trip and walking tour through Rovigo or a trip to neighbouring Po Delta – the routes suggested by ZAINOO lead to the major attractions and the most beautiful places in the province of Rovigo.