Lasagne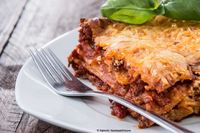 Lasagne
Lasagne
Famous paste and meat casserole
Lasagne is one of the most famous Italian dishes. The wide sheets with meat filling and cheese are quickly prepared and taste divine.
Ingredients (4 people):
500g minced meat
1 onion
2 garlic cloves
1 bunch of parsley
1 tablespoon of tomato purée
1 can of peeled tomatoes
½ litre of milk
30g butter
40g flour
Salt
Pepper
Olive oil
300g Lasagne sheets
Nutmeg
Red wine
Grated cheese
Preparation:
Heat some olive oil in a bowl and gently roast the minced meat. Chop and add parsley and onions. Slice garlic and stir in with tomato purée. Add peeled tomatoes, season with salt, pepper and red wine, and let it simmer uncovered for half an hour.
Melt the butter in a bowl and stir in the flour with an egg whisk. Add milk and stir properly to avoid clumps. Simmer for half an hour on low flame and eventually season with salt, pepper and nutmeg.
Brush casserole with butter. Spread sauce Bolognese, cover it with a layer of Lasagne sheets, spread another layer of sauce Bolognese on top and add a final layer of béchamel sauce. Add layer for layer until the casserole is filled. Make sure that béchamel is the final layer and generously sprinkle with grated cheese.
Escallop lasagne in the oven at 180 degrees until cheese layer becomes golden brown. Remove it from the oven, split into portions and serve hot.