Attractions in Emilia Romagna
The most beautiful spots of the region
Emilia Romagna has a lot of fascinating highlights to offer to its visitors. Known as Italy's belly, it presents itself with flat hills and scenic rivers in the north while the Apennines in the South stun tourists with its unique beauty and breathtaking mountains. The region not only inspires tourists with its landscape, it offers a number of cultural and historic highlights. Be it a stroll through the Renaissance city of Ferrara, seeing the Ravenna mosaics or travelling through Bologna, Modena, Parma, Piacenza, or Rimini – the numerous sights are reason enough for a journey to Emilia Romagna.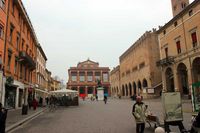 Highlights and sights in Emilia Romagna
Tourists in Emilia Romagna can be looking forward to a dazzling display of top-notch sights and scenic spots. Roman monuments, medieval city centres, monasteries, castles and cathedrals go hand in hand with beautiful scenery and culinary highlights. Be it the Ravenna mosaics, Renaissance feeling in Ravenna or a tour along the antic Roman Via Emilia that stretches from Piacenza across Parma, Modena, Reggio nell'Emilia, Bologna, Cesena, Faenza and Forli all the way to Rimini – visitors of Emilia Romagna truly get their money's worth; reason enough to pay a visit to this beautiful province in the heart of Italy.
Scenic highlights
The region's scenic highlights certainly aren't any less fascinating. While the interaction of mountains and coastal regions between the Apennines and the Adriatic Sea delightfully dominate the south of Emilia Romagna, the northern regions offer fascinating hills and rivers as well as the impressive Po delta. Emilia Romagna is perfect for active tourists and sports enthusiast as it offers everything from a classic beach holiday to long hikes, bike tours and extreme sports in the mountains.
Emilia Romagna inspires tourists from all over the world with its lovely scenery, beautiful beaches, unique sights and culinary highlights.