Mausoleo di Teodorico
Memorial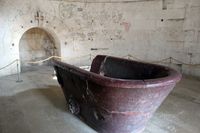 Mausoleo di Teodorico
Mausoleo di Teodorico
Tomb with empty sarcophagus
Theoderic's tomb is a masterpiece of Late Antiquity architecture. It has earned its rightful place on the UNESCO list of World Heritage Sites. The King of the Ostrogoths planned on finding eternal rest in this monumental site on the outskirts of Ravenna and had constructions started in 520. Since his body got lost, the 15 metres high structure just holds an empty porphyry sarcophagus with a bathtub-like design.
Striking lime stone architecture
Mausoleo di Teodorico is located at the edge of the Coriandro, an ancient field on which the Ostrogoths used to bury their dead. Theoderic's tomb is made of Istrian lime stone and was divided into two floors. The lower, decagonal floor is closed off at every corner by a deep, wide alcove, atop of which rests a round arch. The upper, also decagonal floor that houses the empty sarcophagus features rectangular cover alcoves on which a one metre thick and approx. 300 tons heavy cupola with a diameter of eleven metres rests.
Opening hours
Monday 08.30 - 16.30 |
Tuesday 08.30 - 16.30 |
Wednesday 08.30 - 16.30 |
Thursday 08.30 - 16.30 |
Friday 08.30 - 16.30 |
Saturday 08.30 - 16.30 |
Sunday 08.30 - 16.30 |