Ragù alla bolognese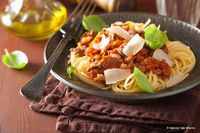 Ragu alla bolognese
Ragù alla bolognese
Pasta with sauce Bolognese
Pizza aside, Ragù alla Bolognese is one of the most famous and world-renowned Italian dishes. Homemade sauce is a little time consuming, yet easy to prepare.
Ingredients (4 people):
300g minced meat
150g bacon or pork belly
50g carrots
50g celery
30g onions
200ml vegetable stock
20g tomato purée (triple concentrated)
100ml dry white wine
200ml whole milk or cream
400g pasta
Salt
Pepper
Freshly grated Parmesan
Preparation:
Finely chop bacon and vegetables, dissolve tomato purée in vegetable stock. Slightly melt bacon in a large pan, add vegetables and lightly sweat. Add minced meat and roast gently. Add white wine and tomato stock, simmer for two hours. Consistently stir in milk or cream and ultimately season with salt and pepper.
Shortly before finishing, boil water, salt and cook the pasta al dente. Dish up pasta with sauce on a plate, sprinkle with Parmesan and serve hot.