Portomaggiore
Villa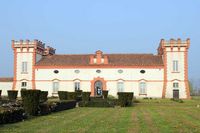 Villa Delizia del Verginese
Portomaggiore
Centre of trade for the Este
With the first records dating back to the late 9th century, Portomaggiore formed at the shore of the today inexistent river Sandalo. Located strategically at the midst of several waterways, Portomaggiore became a centre of trade and flourished under Este regency. Only a few private houses of the historic town centre, which used to consist of churches, palaces and monasteries, survived as it was mostly destroyed during severe air raids from 13 to 17 April 1945.
Villa Delizia del Verginese
Delizia del Verginese is located in the district Gambulaga slightly outside Portomaggiore. The country house had been converted into a castle by Alfonso I d'Este in the 15th century before Cavaldi da Parma had it made into a villa after the regent's death. The building with rectangular footprint and four corner towers with pinnacles has been richly decorated inside and outside over the course of the last centuries. A small 18th century church is located next to the villa. These days the Delizia is open to the public and popular for exhibitions.