Corso Umberto I.
Street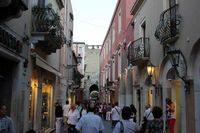 Lively shopping street
Corso Umberto I.
Main street in Taormina
The Corso Umberto I. is the vibrant main street of Taormina and leads from the Porta Messina across the city to the Porta Catania. The busy street is lined with many souvenir shops, restaurants and boutiques that geared entirely to the tourist crowds in the summer months. The unique atmosphere and the many beautifully restored historic buildings should not be missed during a short city walk.