Piazza Santo Stefano
Church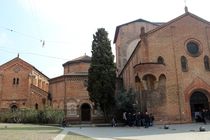 Church complex with Sette Chiese
Piazza Santo Stefano
Church complex with Sette Chiese
Piazza Santo Stefano is site to the eponymous complex of churches, a particularly impressive collection of sacral buildings. Gregorian chorales mingle with the hustle and bustle on the square in the morning and in the evening. The foundations for Basilica di Santo Stefano were already laid in the 5th century when Petronius, bishop of Bologna, suggested building a church on the grounds of a Roman temple dedicated to the goddess Isis. Franks and Lombards extended the complex until a Benedictine monastery was incorporated in the 10th century and Santo Stefano received its present-day name. Ever since then the seven churches merged into four, yet the site is still known as Sette Chiese (Eng. "Seven Churches") among the public.
Stroll through the church and monastery labyrinth
A brief tour through Santo Stefano takes at least an hour. The complex is entered via the brick church Chiesa del Crocefisso. Due to baroque remodelling works only little of the building's old age is visible. On its left lies Chiesa del San Sepolcro, built in the 12th century on the ruins of an old church. It is generally presumed the sepulchral church was modelled after Jerusalem's sacred sites. There's even a loose reproduction of Christ's tomb in the centre of this building. Another left turn opens the gates to Chiesa dei Santi Vitale e Agricola, where the sarcophagi of both saints rest.
Leaving the sepulchral church, the outdoor Courtyard of Pilate with an 8th century marble baptistery donated by the Lombard king Litupold leads to Chiesa della Trinità. The one thing stands out the most is the coloured wooden figurine display "Adoration of the Magi" from 1370, one of the very first of its kind. Imaginatively designed capitals with grotesque figurines adorn the wide cloister. From here a side door leads into the modern monastic pharmacy offering various products from Italian abbeys for sale. Another door leads into the small Museo di Santo Stefano with a model of the site and inventory from the four churches.
Opening hours
Monday 09:00-12:00 | 15:30-18:30
Tuesday 09:00-12:00 | 15:30-18:30
Wednesday 09:00-12:00 | 15:30-18:30
Thursday 09:00-12:00 | 15:30-18:30
Friday 09:00-12:00 | 15:30-18:30
Saturday 09:00-12:00 | 15:30-18:30
Sunday 09:00-12:00 | 15:30-18:30