Piazza Porta Ravegnana
Square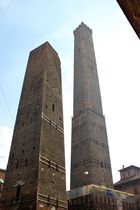 The leaning towers
Piazza Porta Ravegnana
Bologna's leaning towers
City traffic roars on and around Piazza Porta Ravegnana. Here Bologna's two leaning landmarks rise up high into the air – Torre Asinelli (97 m high, 2.23 m overhang) and Torre Garisenda (48 m high, 3.22 m overhang). Both were built as strongholds in the 12th century and fell victim to Bologna's soft soil leading. Nearly 500 steps lead to the top of Torre Asinelli, one of the city's most beautiful lookout points. On clear days even the Alps can be seen.
Summer: every day 9 am to 6 pm
Winter: every day 9 am to 5 pm
€ 3
Further sights
The area around Piazza Porta Ravegnana served as a centre of commerce in medieval times. 15th century Casa dei Drappieri at the corner of Via Rizzoli, the former clothier guild house, is a testament to the erstwhile status. The Gothic 14th century Palazzo della Marcanzia used to be the office of the customs authorities and a merchant establishment.