Marzabotto
Archaeological site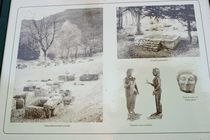 Marzabotto
Marzabotto
Fascinating Etruscan settlement
When the Etruscans began founding colonies north of their original tribal area in late sixth century BC, they expanded into Po Valley and the route leading there. One of the first settlements was Marzabotto, now the best-explored and best-preserved Etruscan town.
Major excavation site
Two necropolises were explored in the second half of the 19th century leading to extensive excavations that unearthed a total of 17 inhumations with weapons and jewellery as well as the foundation walls of various buildings, such as an acropolis and a foundry. Scientists also found several well-preserved metal objects and a special kind of fibula that is now known as a Marzabotto fibula. Many of these finds are presented in the on-site museum Museo Nazionale Etrusco "Pompeo Aria "depicting the development of the Etruscan town from its foundation to its demise after an attack by the Gauls around 350 BC.