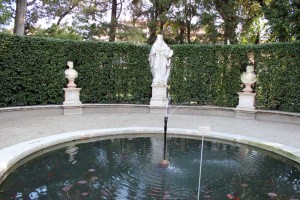 Did you know that there are currently around 1,800 botanical gardens around the world? You find them on all continents – let's put Antarctica aside for one moment – providing a home to special plants and their unique habitats. The mixing of science and pleasure, as the motto of the botanical garden in Kew near London puts it so neatly, has been fascinating people for almost half a millennium. The oldest botanical garden in the world actually still exists today. You can find it in Padua, approx. 30 km west of Venice. It houses various collections and habitats that could hardly be any more different.
The study of medicinal plants
Francesco Bonafede established "Lectrum Simplicium", the study of pharmacology, in 1533. Medicinal plants played a central role as people wanted to (and had to) make use of nature's healing powers. The studies also focused on showing the difference between such medicinal plants and similar looking, regular plant species. The Senate of the Republic of Venice founded the Botanical Garden of Padua on the premises of the Santa Giustina monastery, near the eponymous basilica, in 1545. By raising medicinal plants and providing visual aids for students, the most important purposes were established quickly.
Padua's plant portfolio grew continuously over the course of centuries, in part due to Venice's commercial activities that led to imports from all across the globe. As such, Padua was cutting edge when introducing and researching exotic plants. The first European lilac, sunflower and potato were all grown here. Roberto de Visiani, named director of the facilities in 1837, led the botanical garden to becoming the leading collection of European botany in the 19th century. "Flora Dalmatica", his life's work, described 600 new species with over 1,000 new taxonomic names. Declared UNESCO World Heritage Site in 1997, the Botanical Garden of Padua continues to serve training and educational purposes for students as well as the research and preservation of rare plant species.
A walk through the garden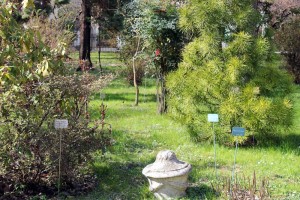 Four gates, all of which were likely established during the 16th century, lead into the oval site. Exotic plants are entwined around the wrought-iron portals giving you a first taste of what's behind them. Geometrically laid-out paths run to the various beds around the fountain. A pharmacological museum and a library with scripts dating back to the 15th century are also part of the garden. Five central habitats accompany you on your walk:
Mediterranean Maquis: The characteristic coastal vegetation of the Mediterranean area with its hot summers and mild winters is represented by this maquis. You will mostly find climbing plants, prickly bushes and lots of shrubbery here.
Alpinum: In stark contrast, this habitat is all about the alpine flora. The vegetation above the highland consists, among other things, of boulders held together by roots, scrubs and small trees. The mugho pine and the dwarf juniper escort you on your tour through this area.
Fresh Water Habitat: Special freshwater tanks were installed to grow characteristic aquatic plants. The Botanical Garden of Padua is known for its exact observance of the conditions in the classic freshwater habitat allowing it to settle an impressive variety.
Succulent Plants: The desert is alive in Italy. You should absolutely visit this area in spring and summer when it blossoms, as the climatic conditions keeps it under wraps outside this time. Here you see various plants from the agave family, parsley family and cactus family.
Orchid Greenhouses: Heat and high humidity create tropical conditions, quite literally. A wide variety of orchids grow in these greenhouses. Exciting shapes, shining colours and enchanting smells accompany your foray.
Other highlights in the Botanical Garden of Padua
That's not all you get to experience during your garden visit by a long shot. Here are a few additional highlights you mustn't miss out on:
The collections: In comparison, greenhouses are a rarity in the Botanical Garden of Padua. Most of the more than 6,000 plant species are outside and, the five habitats aside, were grouped into different collections. These include:

Medicinal and poisonous plants (with scientific information on display)
Mediterranean plants
Aquatic plants
Orchids
Carnivorous plants
Alpine plants
Plants from the area surrounding the garden (Euganean Hills and Triveneto Region)

Garden of Biodiversity: This greenhouse facility was only established in 2004. A whopping investment of 20 million Euros guaranteed modern and resource-friendly construction. You find around 1,300 plants species sorted according to vegetation geography.
Old plants: The long garden history yields many a particularly old plant. Unfortunately, the chaste tree planted in 1550, a genuine rarity, died in 1984, but there's a massive sycamore in the arboretum. It was planted in 1680 and has had a hollow trunk ever since a stroke of lightning. The small greenhouse in the Hortus Sphaericus is known for its "care of the elderly". Aside from Europe's oldest magnolia (mid-17th century) and the oldest ginkgo of the continent (around 1750), the oldest plant of the entire garden grows here. The dwarf fan palm was planted in 1585 and referred to by German poet Johann Wolfgang von Goethe in his essay "Geschichte meines botanischen Studiums" about his studies of botany.
The Botanical Garden of Padua is a collection of extraordinary plants and habitats, skilfully combines scientific aspects with delightful garden indulgence and whisks you away on a sort of brief trip around the world through highly different habitats and climes. Don't miss out on this piece of world heritage!