Piazza Vittorio Emanuele II.
Square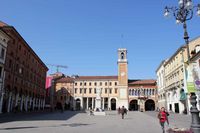 Main square of Rovigo
Piazza Vittoro Emanuele II.
The central square in Rovigo
The Piazza Vittoro Emanuele II is the heart of Rovigo and the central square in the old town. Here you can relax in one of the many street cafés and enjoy the view of the surrounding buildings. High above the square is the Venetian lion perched on a column which bears witness to the former membership of the Doge's republic of Venice.
Around the Piazza Vittoro Emanuele II are the town hall (Palazzo Municipal) with a soaring clock tower, the Torre Civica, the Loggia dei Notari (notary's house) from the 15th century and the Accademia dei Concordi, which was home to one of the main attractions of Rovigo – the Pinacoteca, one of the best collections of paintings in Venice, which is now located in the Palazzo Roverella.